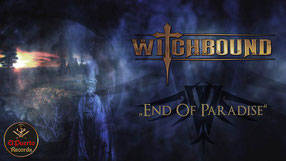 Es tut sich was im Hexenlager: um die Wartezeit bis zum neuen Album - das standesgemäß in der Walpurgisnacht auf den Markt kommt - zu verkürzen,
präsentieren WITCHBOUND den Titeltrack der neuen Scheibe als Vorabsingle und Video.
OFFICIAL VIDEO "End Of Paradise": https://www.youtube.com/watch?v=LBdvnetS2LI
Damit werden auch die ersten Bilder der streng limitierten Sammlerbox (nur 111 Exemplare weltweit!) enthüllt und der Vorverkauf gestartet.
https://shop.el-puerto-records.com/de/limited-special-edition/61/witchbound-end-of-paradise-magnet-box-limited-edition?c=11
Sechs Jahre nach dem sensationellen Debüt Album "Tarot's Legacy" treten WITCHBOUND aus dem Schatten ihrer musikalischen
Vergangenheit und präsentieren ein Melodic Metal Album, das sowohl bisherige Fans verzücken, als auch viele Neue  dazugewinnen wird.
"End Of Paradise" ist auf den gängigen digitalen Plattformen erhältlich: https://backl.ink/144924184
und erscheint neben der Sammerbox auch als JewelCase-CD.
Tracklist WITCHBOUND – "End Of Paradise"
1.Prelude
2.Battle of Kadesh
3.Interstellar Odyssey 
4.End of Paradise 
5.Carved in Stone 
6.Flags of Freedom 
7.Torquemada 
8.Nevermore 
9.Last Divide 
10.Sea of Sorrow 
11.Foreign Shores 
12.Dance of the Dead 
13.These Tears 
14.As long as we can rock 
15.Our Hope
WITCHBOUND sind:
Stefan Kauffmann                       Guitars
Peter Langer                                  Drums
Natalie Pereira dos Santos    Vocals
Tobias Schwenk                           Vocals
Julian Steiner                                 Guitars
Frank Bittermann                       Bass
Mehr Info:
https://www.facebook.com/Witchbound
Quelle:  El Puerto Records