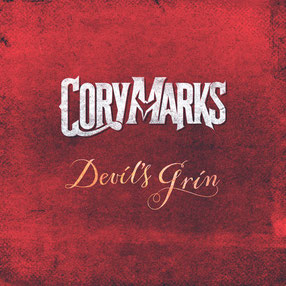 Today, Country/Rocker Cory Marks debuts his new single "Devil's Grin" from his forthcoming album entitled WHO I AM.
"The song "Devil's Grin" is a story about that person you can't seem to get enough of even though you know it just means trouble.  That angel's smile is the devil's grin," adds Marks.  A lyric video for the track will debut along with it.
Check out "Devil's Grin": HERE
Marks has been live-streaming performances every week on Wednesdays (#humpdaylive on Instagram) and Fridays (#Its5OClockSomewhere on Facebook Live), connecting with fans worldwide during these troubled times.
Cory Marks mixes country music with the hard-hitting stomp of rock & roll. Full of autobiographical storytelling, guitar-driven anthems, drinking songs, and breakup ballads, his songs are rooted in the influence of Cory's hometown, where he grew up surrounded by the salt-of-the-earth residents of North Bay, Ontario. It was there where he began playing drums at ten years old. Whenever he wasn't banging along to songs by Deep Purple, Ozzy Osbourne, and Rush, he was listening to his parents' country records, developing a deep appreciation for outlaws like Waylon Jennings and Merle Haggard. Those two genres — classic country and amped-up rock — would eventually join forces in Marks' own music, earning him a string of gigs with heavyweights like Toby Keith and Brantley Gilbert along the way.
His mega-hit "Outlaws & Outsiders" featuring Ivan Moody (Five Finger Death Punch), Travis Tritt and Mick Mars (Mötley Crüe) is a global success, proving that fans of Country and Rock music can agree on great songcraft.  The song has over 10 million streams worldwide and is still growing.  Presently, the song is Top 20 in the US at Rock Radio and Top 30 in Canadian Rock Radio.